Cellairis Case Galaxy S22 - Clear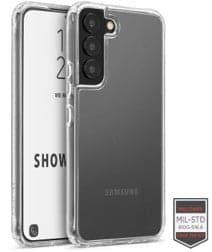 Cellairis Case Galaxy S22 - Clear
In stock online - retail locations subject to availability
Like New: These devices look like and function like a new phone with no scratches or blemishes!
Great: These devices will be free of visible dents, chips and scratches!
Very Good: These devices may have light scuffs or subtle scratches. They are available at fantastic value!
Good: These devices typically have visible scuffs, hairline scratches, or other minor imperfections.
Details
You didn't pick out the phone they kept stocked on a shelf in the back of the store. You picked the one in the center of the showroom, on a pedestal surrounded by lights. Well now you keep that showroom look all the time with the elegant phone case that makes it clear that your phone is one to showcase.strong FEATURES: Strong Corner drop protection with APDT™ Air Pocket Dampening Technology 100% Optically clear Co-molded TPU and PC one piece slim profile design. Raised front and rear TPU bezel to keep your screen and cameras protected Front bezel is high enough to accommodate a Cellairis tempered glass screen protector Best of the best button responsiveness, case fit and quality materials which are imported from Germany. Complete access to all ports and functions Wireless charging compatible.
Why Mobile Klinik?

Guaranteed
Our phones backed by a 1-year warranty* and no-blacklist guarantee.

Affordable
Save up to 50% vs. new* on a wide selection of top brand devices.

Certified
Our phones pass a 64-point inspection by expert technicians.

Sustainable
Buying certified pre-owned keeps phones out of landfills.
View

Hide

terms and conditions
*Subject to approved credit. 0% APR. Customer must finance the device over 24 months to receive the $0 upfront price. Requires an in-market mobility plan with data and voice included. Device balance will be paid over a 24 month period via equal monthly payments. Taxes are extra. Payment of any outstanding device balance will become due upon termination.